Senior Sizzle Review
Senior Sizzle is a dating and hookup sites for mature adults looking for some casual fun.
Just like everyone else, mature adults are looking online to find casual sex partners and Senior Sizzle is the perfect place to start!
They say 60 is the new 50, 50 is the new 40, and 40 is the new 30.
But who are they anyway? And when it comes to dating who really cares who they are and what they say?!
We say if you have the energy and desire to keep on dating in to your later years, then why not?
Why should only young people have all the fun? After all, it is people of your generation who have put all the hard work in, so why should you have to spend your later years single?
And it's you lucky older folks who are getter the jabs first, so you'll be the first one's hitting the dancefloors! But we still implore that you take precautions, and not just in the downstairs department; keep wearing your masks and washing your hands!
You might not be interested in the fast-paced hookup style of Tinder or one the many casual dating sites we have listed in this section on our website, but that doesn't mean we haven't thought about you!
Here we are going to review Senior Sizzle, the dating site designed for people who are a bit older but not wanting to spend life alone (or at least the occasional evening)!
Although lots of members are single, you will still find those who are married or in long term relationships looking for a bit of fun. If you are looking to just hang out and meet older people or experienced lovers who know what they're doing in the bedroom you won't be disappointed either! And if you enjoy some physical action wish to explore your naughty side with someone your own age then it's the perfect place to meet other mature adults looking for the same thing.
Features of Senior Sizzle
Once you arrive at the home page you will be presented with hundreds of members in your area before you even use the search function! The site is designed around making connections quick and easy and to ensure that you will find what you're looking for in an older partner. The site is rich in features with comprehensive profiles so users can make it clear the type of person and relationship they are searching for and what their turn-ons/turn-offs are. This is a vital feature when it comes to mature sex dating sites!
If you want to take it slow at first and get to know other members first a bit before meeting up then there are chat rooms and forums which are always buzzing and lively. If you are feeling a little bit naughty then you can take a peek at the member photos and live webcams! The site operates a 'freemium' model, basic functions such as creating a profile and search are free, but if you want to communicate with other members and take advantage of all the feature then you will need to pay for a monthly subscription.
Membership
As mentioned above you can sign up, search for members, and browse profiles for free, but contacting other members on the site will require a membership. As this is a mature dating site the majority of members are over 40, some in their 50s, 60s, 70s, and even 80s and 90s! The retention rate of paid members is very high due to the large number of members and their continued success with finding sex partner. Most online dating sites suffer from high male to female ratios, making it harder for guys to find a date as there is so much competition. But due to women naturally living longer than men the opposite is actually true on Senior Sizzle! Just another advantage of dating in your later years!
Does It Work?
As people get older their social circles seem to get smaller, making it harder for mature adults to meet new partners which is perhaps why sites like SeniorSizzle.com have become as popular and successful as they have, take a look at you'll see what we're talking about! After reviewing the site for a significant amount of time we can confidently say that members there are genuine and we found it easy to arrange some real casual coffee dates and some hook ups via the site.
The Downsides
As you can tell from the name, it's not for everyone. If you're not pretty open minded and looking for sex dates with people over 50, then this site might not be suitable for you. But if you are looking for naughty adult chat and no strings attached fun then you'll have a great time at Senior Sizzle! We did find the chat rooms very busy and it can become a bit overwhelming and crowded.
Should You Sign Up?
Basically, if you are a bit older, or looking for a relationship with an older man or woman, or just looking for casual sex the simple answer is yes! Even if you are just looking for some mature chat with adults in your age bracket then it is a yes from us too! The site is also very popular with younger guys who are looking for a serious or casual relationship with an older, or more mature woman, and there doesn't seem to be a shortage of women on the site who are looking for the same thing too.
After all, the basic membership is free so you can sign up and take a look around and see if you think the site is suitable for you.
How To Register on SeniorSizzle.com
Thankfully, creating an account on SeniorSizzle is quick and easy and it took us less than 2 minutes.
While you can sign up and look for a 'traditional' male/female relationship, this mature hookup site is equally accessible for men and women who are looking for a same-sex relationship and even couples who are looking to add another person to their relationship.
SeniorSizzle.com is one of the few mature hook-up sites where you can join as a man, a woman, as a trans person, as a couple, or even as a group!
So, as you can clearly see from the above examples SeniorSizzle really doesn't place any limits on its users or their sexual preferences!
When you go to register for an account all you need to provide is username, location, your date of birth, and to create a password.
You should remember that your username will be visible to other members on the site and will probably be one of the first things that influences their impression of you, so you should think carefully about what you choose.
Rather than using the name of your pet or favorite sports team player, try using something that describes yourself, if your name is Robert, you are very tall, love casual sex and were born in 1975 why not use choose something like 'BignTallHornyRob1975'? This will instantly get you noticed and let potential matches know a little bit about your physical appearance without having to click through to your profile – and if you are tall, you should make sure you let women on the site know as height is a major factor that women use when choosing a hookup!
When you create your profile, you will need to write a short introduction title and a little about yourself, we know everyone hates doing this, luckily the site provides some really helpful suggestions and you can just copy and paste one or two and change a few details to make it personal.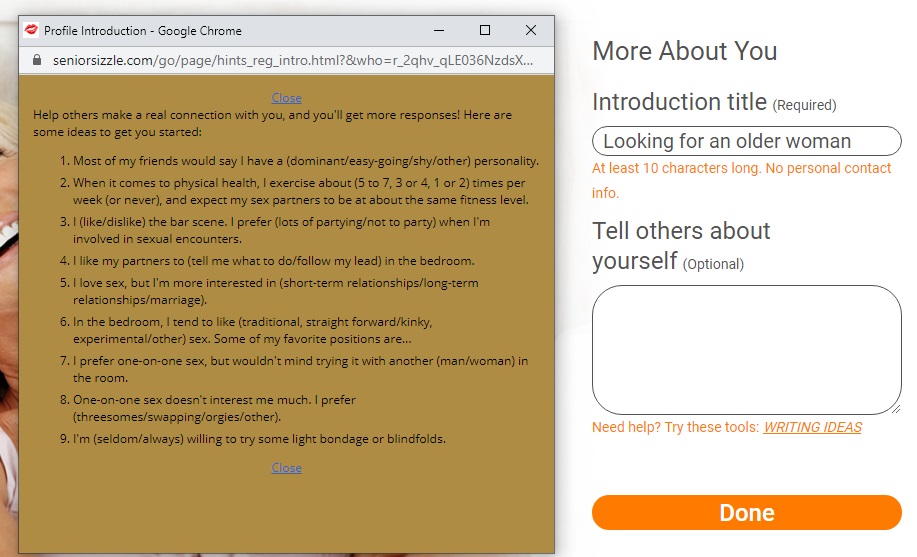 Once you have created your profile you will need to verify your account/activate your profile via an activation link that will be sent to the email address you entered, so double check that the email address you enter is correct and that you have access to it.
You might see the screen below pop up saying you need to pay for a subscription, but you just close it by clicking or tapping the home screen in the top left-hand corner.
You can still use the site for FREE!
Click Here to Get a FREE Account.
You DON'T need to pay for a subscription!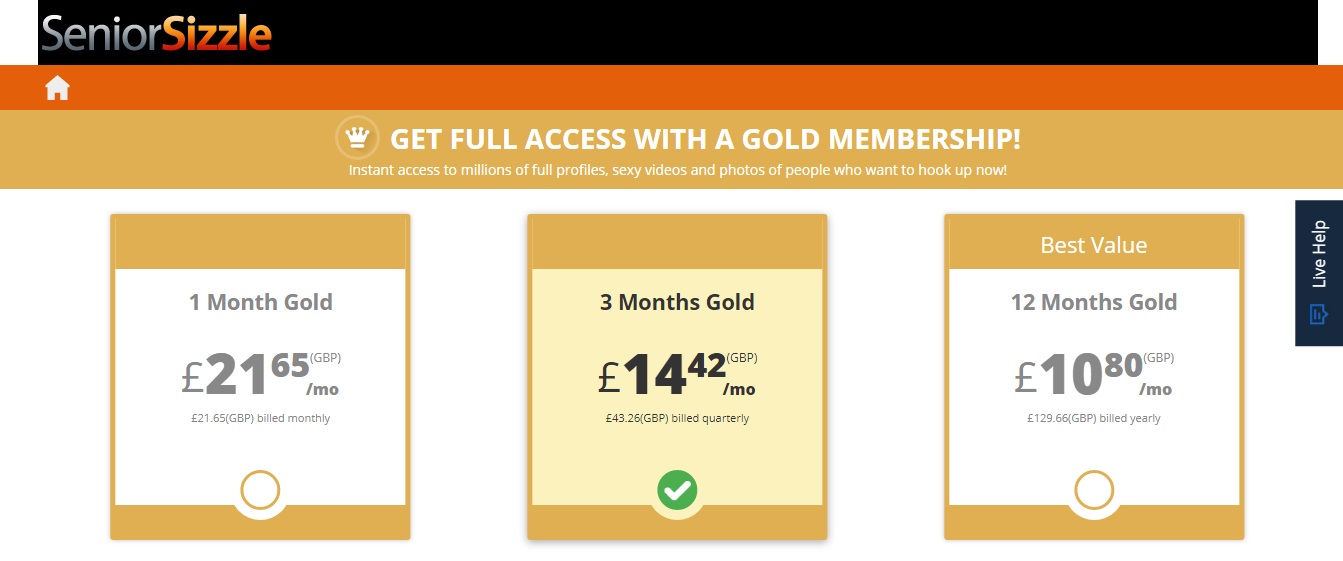 How To Create a Profile on SeniorSizzle.com
Creating a profile is quick and simple process and took our dating site reviewer than 2 minutes. All you needy need to provide is valid email address (you will be sent a verification email), create a username, add your date of birth, add location, and create a password.
But if you want to create a profile that will get some real attention and then you might want to spend a few more minutes on it. Just like everything in life – the more effort you put in to something – the more benefits you reap.
While finding something serious or casual on this mature dating site isn't difficult, paying a little bit extra attention to your profile won't hurt.
Creating an attractive profile that stands out from the sea of faces on the isn't a difficult task and you don't need any special design skills to create a profile that will have your inbox overflowing with messages.
As mentioned above, the site helps you out with suggestions for things to put in your dating profile and add your interests, once you start you will probably realize you have more than you know!
The majority of mature online dating sites allow you to just add a few basic photos and a couple of lines of texts – boring.
SeniorSizzle.com know that in 2023 our online persona is more relevant than ever and people are used to having far more advanced online profiles, especially when it comes to dating and hook up sites!
You can choose to just some basic information about yourself, or add extensive details about your personality, your interests, including your sexual preferences, your fantasies, and much, much more!
Below are a few examples:
Physical Information




Tell other members what you look like.

Personal Information




Share your sexual orientation, what you do for a living, marital status, and more.

Additional Questions




Tell other members about your interests, fantasies, and more.

Personality Type - Find your personality type and who you're compatible with.
Sexual Activities
Dreams

and

Goals

Entertainment, Sports & Hobbies
One of the features of the Senior Sizzle profile that we were really impressed with was the ability to add videos, in addition to still photos to your profile!
This is something we haven't seen anywhere else and we think it's a real game changer.
If a picture tells a thousand words, a video must tell, well, you see how new this idea is – there isn't even a saying for it yet!
Uploading a video or videos of yourself to your profile you can show potential partners on the site what they can expect from you when you contact them, a sure way to increase your chances of getting responses, replies, and ultimately dates and hookups!
Adding a video, or videos to your profile is very simple. You can either record straight from your webcam, or pre-record a video and just upload the file to your profile like you would a photo.

To add videos to your profile, go to > Home > My Stuff > Add/Manage Videos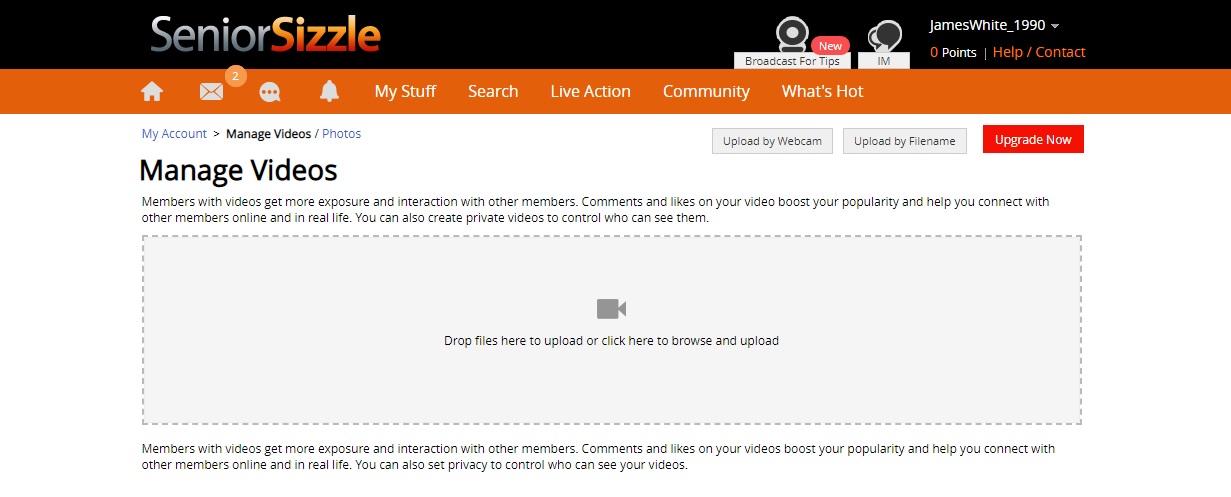 When you create a profile on a dating site it is essentially 'review' of yourself, and people like to have as much information as possible before they make a decision to contact or respond to your message.
By adding a video or two to your profile, you will greatly increase your chances of getting noticed, receiving messages and getting replies to your messages, especially if you participant in the very busy forums (another great feature of the site).
You will need to wait a short while for your profile to be verified, but this was done in about 15 minutes after we created our profile, but you can still use the site and explore all of its features and functions while you are waiting.
After you have created profile, you can then begin searching, and looking through the massive user base in order to find other members to interact with on the site, you can do this before your profile is completed, but we guarantee you will get a much better response rate if have added some photos and filled out your profile with some personal information and interests.
Site Functionality
The website uses a simple and intuitive layout that is packed with features.
We were really impressed by how much this dating site has to offer. In fact, calling it a dating site doesn't really do it justice, after we spent a few days testing it out, we would say it is more like a social networking site for mature singles
Some people might even find it a bit overwhelming at first, but once you get used to where everything is on the site you really start to appreciate what the website has to offer and how it is easy to navigate, whether this is your first time using online dating or you would put yourself in the 'highly experienced' category.
We have attempted to cover everything the site has to offer, but we're sure as there is so much that we must have missed some things out!


Along the top of the navigation bar/menu you have a number of options:
Home

Messages

Instant Messaging (IM Chat)

Notifications

My Stuff
Search
Live Action
Community
What's Hot
Contests
Erotic Stories
Home – This just takes you back to the home screen from any page.
Messages – This is just your basic inbox where you can read, reply to and send messages.
IM – Instant messenger – Very similar to Facebook messenger, here you can chat to members on the site in real time.

Notification – Notifications such as new messages, new matches and when friends on the site are on their webcams.

My Stuff – This is where you can add to and edit your profile, including personal details, pictures and videos.

Search Function - Very detailed search function to find other members on the site by age, sex, location, verified status, if they are online and many more options.

Live Action – This section shows all the members on the site who you can see live in real time.
Community – The community tab encompasses a number of elements:
Chatrooms

– Here you can chat with other members on the site in one of the many large chatrooms.

Blogs –

Fancy yourself as a write or just want to start a discussion? Here you can create your own blog or just read other members blogs.

SeniorSizzle

.com Magazine

– An entire magazine produced by the site which includes lots of articles on dating and relationships, but also mainstream topics that you would expect to see in any magazine.

Groups

– The groups on the site are very similar to a forum or message board, with thousands of boards, topics and members discussing almost every topic you can imagine, but most of them are related to date, hookups, sexual preferences.

What's Hot

– Hottest rated members on the site, and the hottest member rated videos and pictures.

Contests – Feeling

competitive

? Take part and win prizes!

Erotic Stories – Fancy yourself as a bit or a writer or just want to share your erotic experiences (real or imaginary).

Well,

this is the section for you.
Is SeniorSizzle.com Trustworthy?
As with all of our reviews, we check the WHOIS information of the domain name – this includes when it was first registered, or when the first created. Checking the domain name 'SeniorSizzle.com' shows that it was first created back in 2004 meaning it has been in operation for over a decade and a half! Websites which have been around for this long usually indicate that they are genuine and not a scam site, as scam sites are usually registered and then disappear quickly.
We also used a third-party service to check the website (ScamAdviser.com) and it gave a very high 95% Trust Score. Both our checks and the third party site suggest Senior Sizzle is a reliable and trustworthy senior adult dating site.
The website is run by the Adult Friend Finder network who have been specializing in the online dating sector since 1996, and therefore has many years of providing a professional and reliable service to millions of people over many years.
The website uses full HTTPS security throughout, ensuring that whether you are using it on a mobile, table, laptop or desktop device your information is always secure and fully encrypted.
SeniorSizzle knows that anonymity is very important to many of its users. The privacy of users can also be guaranteed on SeniorSizzle.com by ensuring that all personal details are kept hidden, and information can only be shared between members when they wish to share it.
As with all online platforms, there is always going to be some fake profiles on the site and potential scammers, but reporting these will result in the site administration removing them quickly.
The site has robust systems in place to ensure that every user has the right to report or block a member they feel is abusing the site, or is behaving in an offensive or threatening manner.
SeniorSizzle.com Members
The website was first established in the United States but has since grown over the years is now available to users all over the world, but the majority of users are still based in English speaking countries such as the United Kingdom, United States, Canada, Australia and New Zealand.
As you can guess from the name of the site, most of the members are in the 50 years and over age range. But there are also a large number of younger guys on the site who are looking for an older woman – younger man relationship, and the women on the site don't seem to be against this either!
Most users are still based in English speaking countries like the United Kingdom, Canada, New Zealand, Australia, and of course America.
But as English is an international language you will find people from many European countries as well as south America, and even Asia on the site.
As many western countries have large populations of people who are over 50 and Internet usage is widespread amongst older people, even more so with people spending a lot more time at home recently, finding a mature lady online has never be easier!
In fact, now is probably one of the best times to take advantage of mature online dating sites; sexy older women are stuck at home, bored and just waiting for someone to come and keep them entertained. If you won't, some other guy probably will, and you'll be kicking yourself if you miss the opportunity to hookup with a MILFLY older woman when you had the chance but missed it!
During the time we spent while we were reviewing Senior Sizzle, we sent out a few messages to women within a 10 mile radius to gauge the response.
On average around half of them sent a message back which was really impressive, compared to most dating sites.
In fact, we actually RECEIVED a few messages from women who we hadn't even contacted first, anyone who has used online dating sites before will know this is almost unheard of!
Our reviewer put this down to a few factors:
People are BORED out of their minds stuck at home and just want some human contact and to chat with another human being.

Older women are just more confident and not shy or afraid to make the first move and contact the guy first.
This was probably the first dating site that these women had ever used and they didn't know it's usually the other way round with guys being the ones sending out tons of messages first.
The female to male ratio is much higher on this site than '

regular

' dating sites and Apps like Tinder.
Our reviewer had a number of matches with women while testing out the site, and even a few some couples looking to explore adding another person into their relationship.
Everyone our dating reviewer chatted with on the site was friendly and easy to speak to, although they didn't actually arrange a meet up with anyone from the site, many of the people they spoke to seemed very open to the idea.
With such a wide international userbase it is quite easy to meet people from around the world, if you want to, you are not just restricted to your geographical location, or even your country!
The site now has over 110 million members worldwide, with over 35 million based in the United States and 20 million in the UK alone!
How old are the members on SeniorSizzle.com?
Being a dating site for 'seniors' you would expect everyone to be white and gray haired old people, but that is not what we found. While there were many people over the age over of 40 and 50, there were also lots of younger members who like to date older people; only those who have been living under a rock for the past 20 years will not be aware of how popular MILF dating has become, just as young women seek sugar daddies, young guys join sites like Senior Sizzle to find experienced older women to teach them a few things in the bedroom!
If you are a younger guy looking for a younger man/older woman relationship – or a cougar or MILF – a sexually adventurous woman who is in her 30s, 40s, 50s, 60s or even 70s then you should definitely give Senior Sizzle a try!
The age range of members on Senior Sizzle is pretty wide, ranging from 18 to +80 years, but the average age of female members is around 45 years of age.
Male to Female Ratio
The problem with most dating sites and apps is that there are disproportionally more men than women making it harder for guys to even get noticed, let alone even get a date or a hookup.
Thankfully on SeniorSizzle this isn't really an issue as the male to female ratio of members is split pretty much 50/50 - we don't know why this is – but it could be due to the fact that men reach their sexual peek in their 20s and 30s, but women reach theirs's all the way from their 30s up until their 60s – basically all the guys in the older age range have lost their sexual appetite but the women are still hungry for more action!
It could also be down to that fact that women become more confident as they get older and are more open to casual relationships and they are happy to just admit to what they want when it comes to sex.
Site Features & Functions
Instant messenger (IM) Feature, a feature that allows you to chat to other members on the site in real time.

Live/Real time 2-way video chat with other members on the site.

Standard Messaging.

Ability to pictures AND videos to your profile.
Very detailed search function which allows you to find other members on the site by age, sex, location, verified status, if they are online and many more options.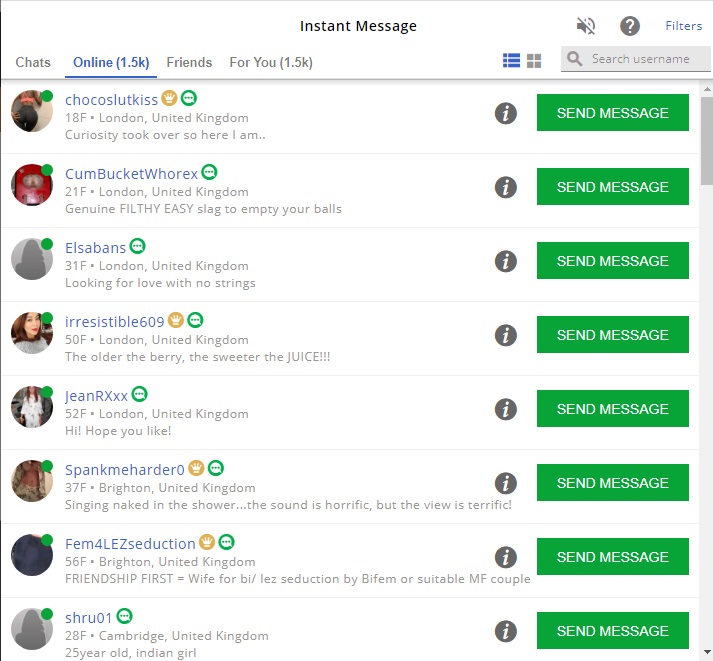 Live Action – In this section you can view all the members on the site who are

broadcasting

live in real

time.

Huge forums that provide an excellent additional opportunity to meet and interact with other people on the site, increasing the number of people who will see your profile.

Verified Members – Members have the option to get their profile verified, adding trust and increasing the number of messages and replies they receive.
What's Hot – Here you can view the highest rated

members,

the hottest member rated videos and pictures.
Communication on the site
In terms of communication, Senior Sizzle really excels when it comes to contacting and interacting with other members, this is ever so more important when so many people are still stuck at home and unable to meet in person for the time being.
SeniorSizzle just has so many ways to contact, chat, meet and interact with other people on the website, compared to many other mature dating sites.
As well as the standard email style messaging system, the site has a full instant messaging service so you can chat to people in real time just like on Messenger or WhatsApp, rather than having to wait for replies in your inbox.
You can also take advantage of a full 2-way webcam chat service on the site to chat and flirt with people on the site that you meet either through the stand search function, in the chatrooms, the forums, or from the blogs and articles sections.
As you can see, compared to other mature dating sites, it is way ahead in terms of messaging and chat capabilities and puts it leaps and bounds ahead of other dating sites that just use a standard email style messaging system.
Click to Join SeniorSizzle.com!
Using SeniorSizzle on Mobile
Unfortunately, Senior Sizzle doesn't currently have an App version available from the App Store or Play store, but all the features you find on the desktop version work just as smoothly on the mobile version.
Free vs. paid Membership
Just like most online services today, and most dating and hookup sites, SeniorSizzle.com works on a freemium model, the website offers a basic free service, and premium service with access to more features.
Free (non-subscription users) can still enjoy many of the benefits and features of the site, but access to some features is limited and considered 'premium' and require a subscription.

Free users can create a profile, add information about themselves, their interests, and add photos & videos, search for other members on the site, and participate in the forums and chatrooms, in addition to many of the other 'premium' features.
However, it is still more than possible to search for, meet and chat with other members on the site completely free without paying for a subscription.
Membership
We have detailed the many of benefits of SeniorSizzle.com if you just simply use it as a free mature dating site, but it wouldn't be a complete review if we didn't cover what you get with a full membership.
On SeniorSizzle.com there are two levels of membership. Basic/Guest (free) and Full (Gold).
Currently it costs £14.48 a month when you purchase a 3-month (Gold) subscription packages for a membership which give you full, unlimited access to all the features.
However, if you choose a 12 month the price per month works out at just £10.85 per month – or just £0.35 per day!
So, we signed up for one month of 'Gold' membership to see how it compared to a basic free account.
Basic (free) members can upload up to 10 photographs to their profile, while Gold members can upload both a maximum of 20 photos and additional videos/audio introductions for fellow members to view.
Gold members have far more control over the type of matches that are displayed by using advanced searches, localized searches, keyword matches, and even by astrological sign.
Guest members have a lesser scope of options, and can only perform basic searches as well as browsing users currently online or via their username if they have that information to hand.
Guest members can only initiate contact by sending 'flirts' to other users. These are little alerts which let that member know that someone is interested in them. Although a conversation cannot be initiated by email or instant messaging, if a gold member does decide to send you an email, or start chatting by IM then you can reply for free!
Gold membership allows you to initiate conversations and also offers a host of extra features, including being shown first over guest members in search listings.
Gold members can see 'who has viewed me', and 'who is interested in me' which ultimately results in a higher success rate when it comes to getting a response from messages and friend requests.
Gold members also receive enhanced dating safety advice and tips, and priority VIP customer support.
Overall, there are many more benefits to having a full membership and you will appreciate the extra features, but you can still use the site and many of the features on the site without having to become a Gold member.
Key Benefits of SeniorSizzle.com

Free Basic Membership

Millions of Members Worldwide

Millions of Single Mature Females

Instant Messaging (IM) Chat

Standard Messaging System
Two-way on-site Video chat
Ability to Upload Videos to profile
Huge Forums & Chatrooms
Hotlists/Top Rated Members
Extensive FAQ section, and a great customer support team that will answer your question via email or phone 24 hours a day, 7 days a week.
Conclusion / Summary
SeniorSizzle.com is one of the largest, most established mature dating sites with a huge international user base, and a massive list of features that gives you multiple opportunities to meet, chat, and interact with people.
Unlike most dating sites, you can join SeniorSizzle.com for free and still have a great chance of successfully meeting someone without paying a monthly subscription fee.
The site is extremely easy to navigate while still offering a huge range features and which makes meeting someone new easy and fun, whether they are an experienced online dater or this is their first time looking to flirt or find romance online.
With a huge member base of regular users and thousands of new members joining every day, a massive host of features and great benefits even for free members, we hope that you can see after reading this SeniorSizzle.com review, that if you are just looking for some fun with a mature man or woman, or something more serious, this site is one that you should join today.
---
SeniorSizzle.com Reviews