HornyWife.com is one of the best hookup sites for men looking for lonely housewives we have reviewed in terms of site usability, members, site features, and memberships benefits.
So here is our full HornyWife.com review.
Most of the members of HornyWife are mature women, usually better known as MILFs or cougars, and the men who wish to have relationships with them. Some of these relationships are serious and long term, but the majority of users on the site are just seeking a short-term relationship or 'hookups'.
Because of the age gap it is sometimes difficult for guys to find a woman who is of a different age range to themselves.
That is why HornyWife was created, to connect horny married women and the guys who want to meet them.
Despite the site mainly catering for relationships between married women and single guys, it has a large user base, and offers a great number of members in every country around the world, so you can be sure to meet someone perfect for you, whether you're looking for a hookup, romance, a relationship or simply friendship.
The site has no age limit, and you can join at any age from 18 years old in order to look for that ideal older woman you have dreaming about. The site welcomes any sexual orientation, and has a mix of straight and LBGTQ+ members.
As part of our full review, we created an account of a 27-year-old male, based in the United States, and then later changed our location to the United Kingdom to get an experience of the members on this hookup site from more than one country.
Registering on the site is an easy process, guided by help prompts along the way for users who might need them or have never joined a dating site before.
You don't need to provide a lot of information to initially sign up, however it is a good idea to take advantage of all the opportunities to fill out your profile and increase the amount of attention it receives.
To sign up you only need to:
Provide a valid email address
Create a Username
Create a password
Add a location
Add your age & sex
Add an introduction & short description


How To Register on HornyWife.com
Thankfully, registering to use the site is quick and easy.
In addition to people seeking 'regular' male/female relationships, this housewife hookup site is equally accessible for women seeking older women, and couples looking to add an older woman to their relationship.
The site is one of the few sites to meet MILFs where you can join as a man, a woman, as Trans, as a couple, or even as a group!
So, you can see, HornyWife really doesn't place any limits on its users or their sexual preferences!
When you are registering for an account, you need to specify a username, location, your date of birth, and create a password.
Remember your username will be visible to other members on the site, so think carefully about what you choose, rather than using the name of your pet or favorite football team player, try using something that describes yourself, if your name is John, you live in London and were born in 1985, why not use LondonJohn1985? This will help potential matches notice that you live close to them too.
You will need to write a short introduction title and a little about yourself for your profile during the sign-up process, we know most people hate doing this, luckily the site provides some suggestions and you can just copy and paste one or two and change a few details to make it personal.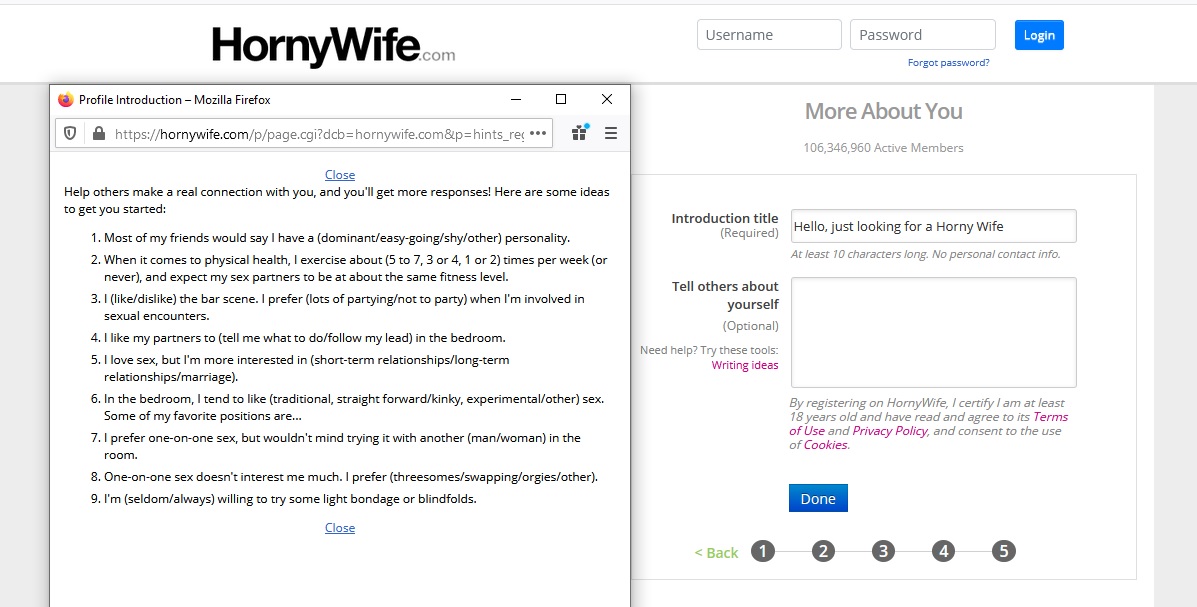 (To verify your account, you will be asked to activate your profile via an activation link that will be sent to the email address you entered, so please ensure you use an email address that you have access to).
You might see the screen below pop up, but you just close it by clicking or tapping the home screen in the top left-hand corner.
You can still use the site for FREE!
Click Here to Get a FREE Account.
You DON'T need to pay for a subscription!

How To Create a Profile on HorneyWife.com
Creating a profile is quick and easy and took us less than 2 minutes. You only need to provide a valid email address (you will be sent a verification email), create a username, add your date of birth, add location, and create a password.
But if you want to create a profile that will really stand out and get some real attention then you might want to spend a few more minutes on it – it will pay off in the long run – believe us!
While finding something serious or casual on this MILF dating site isn't difficult, paying a little bit extra attention to your profile won't hurt.
Making your profile attractive and eye catching isn't difficult, as we mentioned above, the site helps you out with suggestions for things to put in your dating profile and add your interests, you will probably realize you have more than you know!
Most online dating sites allow you to just add a few basic photos and a couple of lines of texts – boring.
HornyWife.com knows that we are now in 2021 and people are used to having far more advanced online profiles, especially when it comes to dating and hook up sites!
You can choose to just some basic information about yourself, or add loads of details, including your sexual preferences, fantasies and kinks, and even take some of the personality tests!
Below are a few examples:
Physical Information
Tell other members what you look like.
Personal Information
Share your sexual orientation, what you do for a living, marital status, and more.
Additional Questions
Tell other members about your interests, fantasies, and more.
Personality Type
Find your personality type and who you're compatible with.
My Kinks
Let other members know what sexually arouses you.
Purity Test
Find out if you're a sexual overachiever or a naughty newbie.
In addition to adding photos to your profile you can also add videos!
This is a real game changer, and something we haven't seen on any other casual dating or hookup site before!
They say a picture tells a thousand words, so a video tells, well, we're not sure, but you get the idea.
By uploading a video or videos of yourself you can really show potential hookup partners on the site what they can expect from you when you contact them, a sure way to increase your chances of getting responses, replies, and ultimately dates and hookups!
Adding a video to your profile is very simple. You can either record straight from your webcam, or prerecord a video and just upload the file to your profile like you would a photo.

To add videos to your profile, go to > Home > My Stuff > Add/Manage Videos


By adding video to your profile, you will greatly increase your chances of getting noticed and getting messages, especially if you participant in the very busy forums (more about those below).
You will need to wait a short while for your profile to be verified, but this was done in about 15 minutes after we created our profile, but you can still use the site and explore all of its features and functions while you are waiting.
Once your profile has been created you can then begin searching, and sifting through the massive user base in order to find some bored housewives to interact with on the site, you can do this before your profile is completed, but you usually get a better response when you have added some photos and interests.
Site Functionality
The website uses a simple and intuitive layout that is packed with features.
You might find it a bit overwhelming at first, but once you get used to where everything is on the site you really start to appreciate what the website has to offer and how it is easy to navigate, whether you're new to online dating or an experienced veteran.
We have tried to cover everything the site has to offer, but there is so much that we might have missed some things out!

In fact, after we spent a few days testing the site we would say it is more like a social networking site for horny wives than a normal dating site!
Along the top of the navigation bar/menu you have a number of options:
Home
Messages
Instant Messaging (IM Chat)
Notifications
My Stuff
Search
Live Action
Community
What's Hot

Home – This just takes you back to the home screen from any page.
Messages – This is just your basic inbox where you can read, reply to and send messages.
IM – Instant messenger – Very similar to Facebook messenger, here you can chat to members on the site in real time.

Notification – Notifications such as new messages, new matches and when friends on the site are on their webcams.

My Stuff – This is where you can add to and edit your profile, including personal details, pictures and videos.

Search Function - Very detailed search function to find other members on the site by age, sex, location, verified status, if they are online and many more options.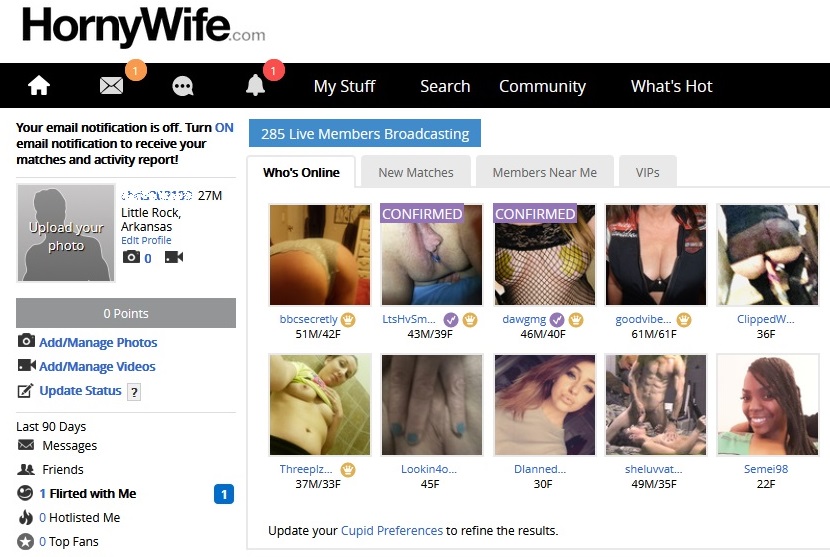 Live Action – This section shows all the members on the site who you can see live in real time.
Community – The community tab encompasses a number of elements:
Chatrooms – Here you can chat with other members on the site in one of the many large chatrooms.
Blogs - Here you can create your own blog or just read other members blogs.
HornyWife.com Magazine – An entire magazine produced by the site which includes lots of articles on dating and relationships, but also mainstream topics that you would expect to see in any magazine.
Sex Academy – An online training academy designed to improve your sex and dating (only if you need it)!
Groups – The groups on the site are very similar to a forum or message board, with thousands of boards, topics and members discussing almost every topic you can imagine, but most of them are related to date, hookups, sexual preferences.
What's Hot – Hottest rated members on the site, and the hottest member rated videos and pictures.
Is HornyWife.com Trustworthy?
Just like many of our reviews, we like to check the WHOIS of when the domain name was registered, that is when the domain 'HornyWife.com' was first created and it gives you a good idea of how long the website has been operating for, and is usually a good indicator of if it is a genuine site or a scam site, as scam sites are usually registered and then disappear quickly.
After we checked when HornyWife.com was first registered we found out it was all the way back in 1998! That means the site is 23 years old! This is an excellent indication that the site is reliable and trustworthy as it has been going for over two decades.
The site is part of a larger dating network which has been working in the online dating sector since 1996, and therefore has many years of providing a professional and reliable service to millions of people over decades.
Security on the site ensures that every user has the right to report or block a member they feel is abusing the site, or is behaving in an offensive or threatening manner.
Anonymity can also be granted on HornyWife.com by ensuring that all personal details are kept hidden, and information can only be passed from one member to another as and when they wish to share it.
Just like another other online platform, there is always going to be some people who try take advantage of others online and you may find a small number of fake profiles on the site, but reporting these will result in the site administration removing them quickly.
HornyWife.com Members
Although when the site first started it was based in the United States the vast majority of members were Americans, as it has grown over the years in popularity it has attracted users from all over the world.
Most users are still based in English speaking countries like the United Kingdom, Canada, New Zealand, Australia, and of course America.
There is also a large and growing member base from Europe and many other countries as English is one of the most spoken languages internationally.
Although many of the women on the site probably joined when they were married, they were obviously unhappy in their marriage, and a number will now inevitably likely to be divorced – so you won't just find horny housewives on here, there will be a huge number of older women, often called cougars, on the site too still looking for dates and casual hookups.
During the time we were reviewing the site we had a number of matches with women, and some couples looking for a threesome and everyone we chatted to was very friendly and easy going, although we didn't actually meet up with anyone from the site, many of the people we spoke to seemed very open to the idea.
With such a wide international userbase it is quite easy to meet people from around the world, if you want to, you are not just restricted to your geographical location, or even your country!
The site now has over 100 million members worldwide, with over 25 million based in the United States and 8 million in the UK alone!
How old are the members on HornyWife.com?
As you can expect from a site called 'HornyWife', most of the female members are married women, so are in the slightly older age bracket.
We found most of the women on this site could be classed as cougars, being in the 30 year to 60 years old age range looking or extramarital relationships, usually with younger men.
The age range of male members on the site is very wide from 18 to 70+ years.
Male to Female Ratio
Most dating sites suffer from a disproportionally larger number of male than female members, making it more difficult for guys to get a date or just a hookup.
But luckily on HornyWife this isn't a problem and the ratio of male to female members is fairly even, this is probably partly because of the website name, it attracts horny older women who are just looking for casual relationships and they are more confident than younger women to just admit to what they want when it comes to sex.
There are also a number of couples on there looking for a guy for threesomes, so if you have always thought about having a MILF threesome, this might be just the site for you.
Site Features & Functions
Instant messenger (IM) Feature, similar to Facebook messenger allows you to chat to members on the site in real time.
Live/Real time 2-way video chat with other members on the site.
Standard Messaging.
Add pictures AND videos to your profile.
Highly detailed search function to find other members on the site by age, sex, location, verified status, if they are online and many more.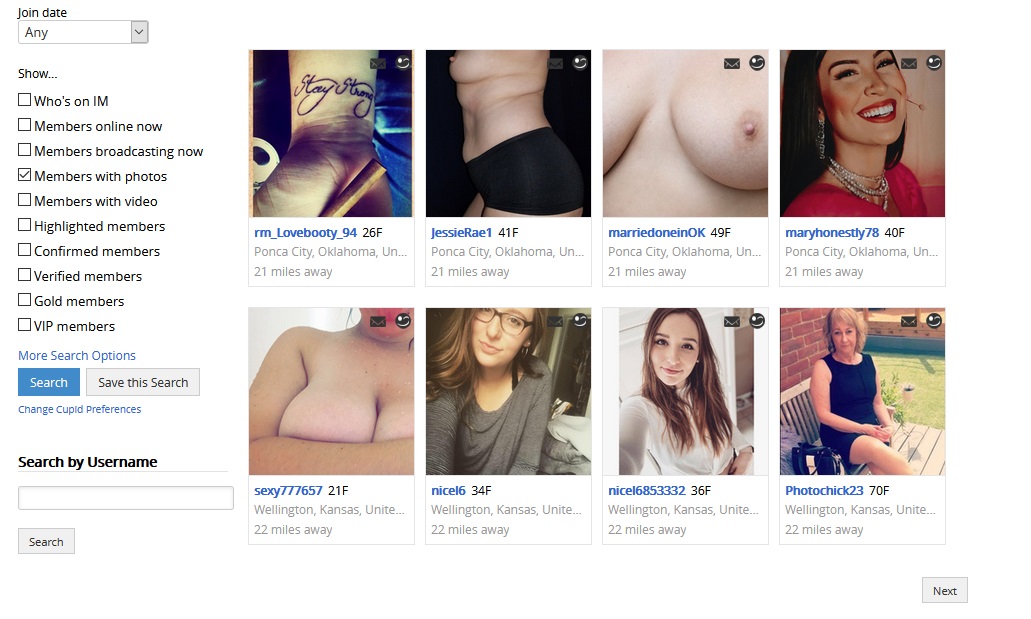 Live Action – This section shows all the members on the site who you can see live in real time.
Huge forums that provide an excellent additional opportunity to meet and interact with other people on the site, increasing the number of people who will see your profile.
Verified Members – Members have the option to get their profile verified, adding trust and increasing the number of messages and replies they receive.
What's Hot – Hottest rated members on the site, and the hottest member rated videos and pictures.
Communication on the site
In terms of communication, HorneyWife offers one of the most revolutionary ways to contact other members on the site, compared to many other MILF dating sites.
Not only does the site offer full instant messaging, rather than having to wait for replies in your inbox, you can also take advantage of a full 2-way webcam chat service on the site.
So, in this respect the messaging system is quite far ahead of other MILF dating site and it puts it way in front of many others who still just use a standalone email style messaging system.
Using HornyWife on Mobile
If you want to find and chat with horny older women on the fly, you won't be disappointed, the site is fully mobile optimized and available on all mobile and tablet devices.
Unfortunately, the site doesn't currently have an App version available from the App Store or Play store, but all the features you find on the desktop version work just as smoothly on the mobile version.
Free vs. paid Membership
Like most dating and hookup sites nowadays, HornyWife.com works on a freemium model, that means it offers both a free and premium service, users can enjoy many of the benefits and features of the site for free, but some features of the site are considered 'premium' and require a subscription.

However, it is still more than possible to search for, meet and chat with other members on the site completely free without paying for a subscription.
Free users can create a profile, add information about themselves, their interests, and add photos & videos, search for other members on the site, in addition to many of the other 'premium' features.
Membership
We have mentioned many of the benefits of HornyWife.com if you just simply use it as a free MILF dating site, but it wouldn't be a complete review if we didn't cover what you get with a full membership.
So, we signed up for one month of 'Gold' membership to see how it compared to a basic free account.
On HornyWife.com there are two levels of membership. Basic (free) and Full (Gold).
Basic (free) members can upload an additional optional 10 photographs to their profile also, and Gold members can upload both a maximum of 20 photos and additional videos/audio introductions for fellow members to view.
Gold members have much more room to control the types of matches that are displayed, by using advanced searches, localized searches, a keyword match, and even by astrological sign.
Guest members have a lesser scope of options, and can perform basic searches as well as browsing users currently online or via their username if they have that information to hand.
Guest members can only initiate contact by sending 'flirts' to other users. These are little alerts which let that member know that someone is interested in them. Although a conversation cannot be initiated by email or instant messaging, if a gold member does decide to send you an email, or start chatting by IM then you can reply for free!
Gold membership entitles you to initiate conversations and also offers a host of extra features, including being prioritized over guest members in search listings, viewing the 'who has viewed me', and 'who is interested in me' sections so they know the types of members they are attracting.
Gold members also receive enhanced dating safety advice and tips, and priority VIP customer support.
Overall, there are many more benefits to having a full membership and you will appreciate the extra features, but you can still use the site without having to become a Gold member.
Key Benefits of HornyWife.com

Free Basic Membership
Millions of Members Worldwide
Millions of Married & single Mature Females
Instant Messaging (IM) Chat
Standard Messaging System
Two-way on-site Video chat
Ability to Upload Videos to profile
Huge Forums & Chatrooms
Hotlists/Top Rated Members
Extensive FAQ section, and a great customer support team that will answer your question via email or phone 24 hours a day, 7 days a week.
Conclusion/ Summary
HornyWife.com is a great niche site, which has a large user base, and an even larger list of features that can be used by both free and paid members.
Unlike many other competitors, joining HornyWife.com for free offers a great chance at successfully meeting someone without paying a monthly subscription fee.
Whether you're looking for married older women or single MILFs, or even a mature threesome, you are sure to find a non-judgmental and welcoming environment on this site.
It is incredibly easy to navigate, yet offers a load of features and lots of help for its members should they encounter a problem, which makes it a perfect choice for new users who are online dating virgins and have never used a dating site before to meet someone.
With a large, well-established member base of regular users, a huge host of features and great benefits even for free members, we can highly recommend HornyWife.com if you are looking for some fun with a horny wife!
So sign up today and get yourself a FREE account!
HornyWife.com Pros
Free Basic Membership
Millions of Members Worldwide
Two-Way Video Chat
Add Videos to Profile
Instant Messaging (IM) Chat
---
HornyWife.com Reviews